What is Design Build?
Design-Build is a process where designers that help you create the plans for your construction project work for the same company as the contractors who build it. You benefit from a single point of contact, and an established expert team who already knows how to play to each other's strengths.
How do I prepare to build a custom home?
Prepare for your custom home by securing your financing. Meet with your lender if you will need a loan and secure pre-approval. It is much easier to plan your custom home when we are sure about our budget from the beginning.
I want to build a custom home on my land, where do I start?
If you already have land for your custom home, we can skip the step of finding a lot. Once we connect, we can view your lot, discuss your dream and rough budget, and move forward with a design contract to create custom plans for your project.
How long do custom home plans take?
It takes about 4-6 weeks to make custom home plans once we have decided to work together on your project.
How long does it take to prepare an estimate?
After a contract is signed, you make preliminary materials selections. This information helps us create a much more educated estimate about the cost of your project. After you select your materials, it takes about 2 weeks to prepare an estimate.
How experienced is 10x Builders?
We recently completed our 50th home for our Utah County neighbors. Our combined experience totals almost 11 years in residential construction. We have evolved and perfected our process over our last 4 years in the industry.
Will I be provided with a schedule for my project?
Yes! We like anyone who likes a good schedule. We use a construction software where the schedule is updated frequently to give you up-to-date information about your project's timeline.
How will I be updated on my project? How often?
We understand how important communication can be during the construction process, so we have established processes to ensure you get routine updates. 10X provides client construction updates every Tuesday. We also ensure that you have every opportunity to check our work against your standards. We have 10 scheduled house walks during the construction of the home so that we can proactively respond to any concerns.
Why do I need to have a budget for my project?
If you need a loan to complete your construction project, your lender will require a budget. No matter how you pay, you will need to understand the cost of your project and the factors that influence them. This will allow you to make selections that align with your budget from the beginning.
What forms of payments do you accept?
On a custom home, we will typically be working with your bank directly for payment through your loan. If there is no loan, we will gladly accept cash, credit card, or a check.
Why should I choose to work with 10x Builders?
10X delivers a unique blend of quality and cost-efficiency. Our streamlined processes and excellent communication creates stress-free construction experiences and results that stand the test of time.
How do you, as a custom home builder, handle complications?
We promise prompt, transparent communication in the event of unexpected concern. We promise we will solve the problem together to your satisfaction. We will use any leverage we have with vendors or subcontractors to solve the problem on your behalf.
If you have any other questions about us, you can learn more about us here. If we still haven't answered all your questions, feel free to contact us or schedule a consultation at any time. We look forward to hearing from you!
Where we service
10X Builders Builds Custom Homes in the Following Areas of Utah: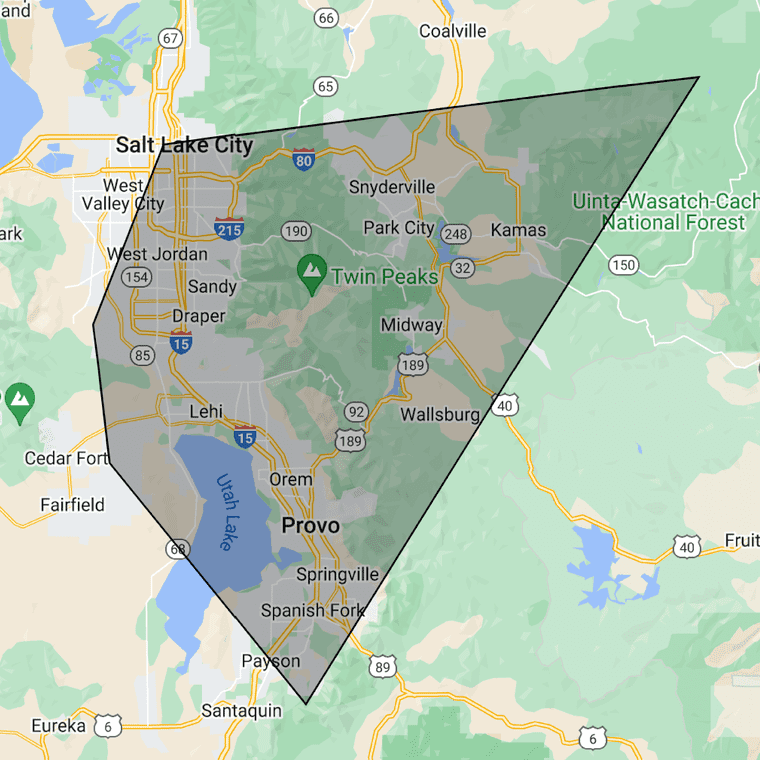 Salt Lake County
Draper

Herriman

Sandy

South Jordan

West Jordan

Murray

Salt Lake City

Bluffdale

Riverton

Cottonwood

Holladay

Millcreek

Mt. Olympus

Taylorsville
Summit/Wasatch County
Park City

Kamas

Victory Ranch

Heber

Midway

Timber Lake's

Sundance
Utah County
Highland

Cedar Hills

Alpine

Orem

American Fork

Lehi

Mapleton

Lindon

Pleasant Grove

Saratoga Springs

Provo

Springville

Vineyard

Salem

Spanish Fork

Eagle Mountain

Payson

Woodland Hills