Why Choose 10X Builders for your Utah or Salt Lake County custom home?
At 10X, we realize you have a lot of choices regarding building your home. However, 10X is the only contractor dedicated to making your house ten times better. Our promise to you is that we'll always be transparent and maintain an open line of communication. Customizing homes is our specialty, and each project we take on is tailored to your exact needs. As a young company, we understand the latest trends and our homes are built to amaze. Check out our Instagram page to see what 10X can do for you.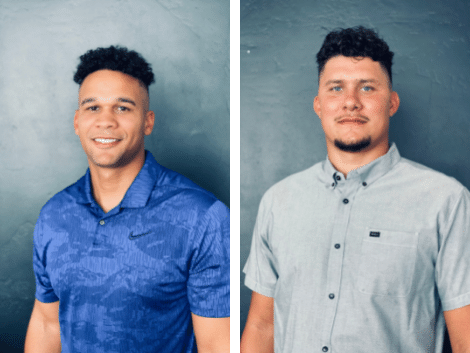 Meet Your Utah or Salt Lake County Custom Home Builders
10x Builders is owned and operated by AJ Moore (left) and Alani Fua (right). AJ and Alani met at BYU in 2010 when they joined the football team, and both majored in the prestigious Construction Management program.
After college, AJ worked as a framer for 2 years and worked his way up to Lead Project Manager for a company in Utah. He managed dozens of home builds from the ground up and was featured in the Utah Valley Parade of Homes.
Alani went on to play in the NFL, for the Arizona Cardinals and retired after 3 years due to injuries. After the NFL, he returned to BYU to finish his degree in Construction Management. Upon graduation, Alani and AJ decided to start 10X Builders and begin their journey building homes together.